Here is my review of these 2 kits.
Both Roland and Yamaha tend to be the top of the line in E-drums. And.....these 2 kits are there entry level products.
I will start with the Roland HD1.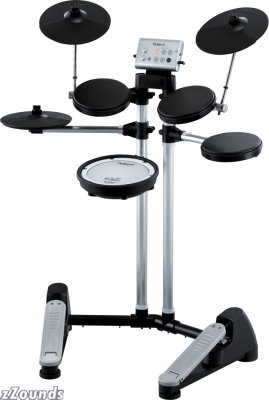 As you can see from the pic, this is a very compact kit. It is designed for small spaces. However because of it's size it is very portable and lightweight. So easy for moving to your buddies house for band practice.
The kid comes with 10 different programmed kits, including a double bass feature. There are probably 4 that are usable. You can connect an ipod or cd player to the kit and then to your headphones and play along with your favorite artist.
Here's what I really like about this kit. The mesh snare drum head.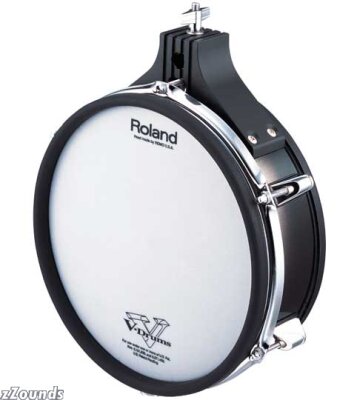 It has such an awesome feel to it and is as close to an acoustic snare as you can get on an e-drum. I also like the responsiveness of the toms. And I like the fact that the cymbals are round.
Call me old fashioned.
Roland also designed a monitor for this kit which is nice.
Roland PM01 Personal Drum Monitor at AmericanMusical.com
However the sound thru the headphones will blow you away.
The pedals are very responsive. Even though there is no bass drum to speak of, I really do like the action of the bass drum pedal. The hihat function takes some getting used to though.
This kit is not expandable. What you get is what you see. that is the only drawback. before you laugh this kit off, I recommend anyone to sit down and try it. I was blown away.
Yamaha DTXplorer
I tried this kit out yesterday and was also blown away as well.
The sounds are very realistic. The responsiveness of the pads are good. It comes with a bass drum pedal (not chain driven, sadly) And it accomendate a double bass pedal.
I am not crazy about the hihat pad...in that it doesnt look like a hi hat..and the pizza sliced shaped cymbals are different.
But...and this is a big but......you can change stuff out. You can change the cymbal pads. I think you can change the hi hat out to one like in this pic and then use the old hi hat pad as another drum trigger.
But then again you may need a new brain.
Sound wise it has 32 preset kit sounds plus 10 user kit sounds. 192 drum & percussion voices and 22 keyboard voices.
You can play along to music already in the brain or of course the cd ipod.
For my money, I will probably go with the Yamaha kit.
But I like them both.
And both would be easy for a beginner to a pro.